September 10, 2009
Martin Krieg - HiWheelin' for Low Wheels
At the end of June, I finished a ride from San Francisco to Salt Lake City on the bike you see pictured here: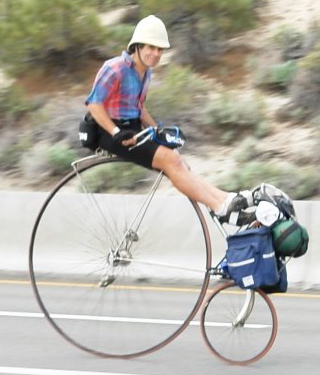 It ended up being a trial balloon for the ride I will be doing with the Busycle in tow to Boston next June because the two weeks of electric storms that I hit drained the budget and torpedoed the schedule. Here us the blog about that ride.
I am doing all this for the National Bicycle Greenway and to dispel the stereotype that Bent riders are not fit and/or cannot ride regular bikes any more. This as there are very very few upright cyclists who can even begin to ride the 1891 Eagle HiWheel I will become the first to ride across America on.