WizWheelz in the news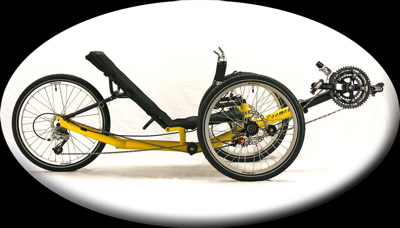 WizWheelz follows bike path to success
http://www.mlive.com/business/grpress/index.ssf?/base/business-4/116464310040240.xml&coll=6
Monday, November 27, 2006
By Aaron Ogg
The Grand Rapids Press
KENTWOOD -- Much has changed since childhood friends Wayne Oom and Jack Wiswell started making tricycles in Hastings 10 years ago.
Their company, WizWheelz Inc., sold a dozen low-riding recumbent tricycles in its first year. They've since added nine models to their TerraTrike line and have sold 2,350 online, by walk-in, and through 70 bicycle dealers across the U.S. and Canada. In August, they moved their operations from a 2,000-square-foot showroom/assembly shop in Hastings to one double that size in Kentwood at 4525 Stauffer Ave. SE Suite A, next to Champion Fitness.
"It's the fun factor," Oom said of the firm's success. "It's just like riding a go cart."
TerraTrikes was born of Wiswell's simple desire "to make myself a funny bike." He had moved back to Michigan from Colorado, where he commuted by bicycle year long. Oom saw dollar signs, so the pair began production in Wisnell's garage. Oom, Wiswell and former partner Peter Dolan each pooled $1,000 from their savings for start-up costs. This year, they anticipate record gross sales of $1.3 million. Not bad for an idea that began on a used napkin at a Christmas party.
But the recumbent tricycles are not a new concept, Wiswell insisted. He said TerraTrike is the only line to offer adjustable seating. The seat -- made of a mesh nylon material that allows for breathability -- sits about a foot off of the ground. Trikes average about 74 inches end to end, accommodate different-sized riders and come in three materials: a sturdy Chomaly steel, a lighter aluminum and super-light carbon fiber for high-performance. But "if you go over a set of railroad tracks" in a carbon-fiber model, "you're gonna feel it," Wiswell said.
Trikes range in price from $1,299 for a basic Chromaly model, to $4,499 for a tandem trike.
Wiswell said traditional clients have been "55-year-old empty nesters," but the demographic is "getting broader all the time."
Posted by mkreig at December 18, 2006 07:19 AM