Conference Bike in Action
Conference Bike in Action
Ever seen the seven-person conference bike? Here it is in action: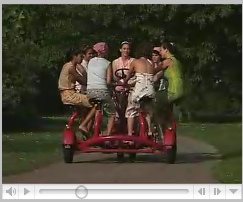 And here is a story about a Florida man who shows it around down there:
Enthusiast uses collection to encourage bicycle riding
Daphne Sashin | Sentinel Staff Writer
Posted April 5, 2007
http://www.orlandosentinel.com/features/health/orl-obicycle0507apr05,0,632573.story?coll=orl-health-headlines
ST. CLOUD -- The sight of a 400-pound shiny red tricycle being propelled down a sleepy stretch of Columbia Avenue by seven giggling riders last week caused something of a stir.
"How the heck do you ride that thing?" a woman called out, when the group pulled over to check out a yard sale.
"Somebody's put a lot of thought into that," marveled Ed Gerlach, 69, a winter resident from Michigan, as the riders resumed their positions on the ConferenceBike, a unique circular tricycle that seven people pedal and one person -- the "captain" -- steers.
Owner Bob Swaim is used to grabbing folks' attention with his distinctive bicycles. It has been his mission ever since he had a heart attack 10 years ago, retired from his job as a high school math teacher outside Allentown, Pa., and grew bored with his home-gym equipment.

"I thought if I collected a lot of neat bicycles and made presentations, it would force me to exercise," said Swaim, 61.
Swaim and his wife drove down to St. Cloud for a month-long vacation, toting a trailer filled with more than a dozen bicycles from his collection of about 200 single- and multi-passenger bikes. Throughout March, he showcased them in parades and classrooms and spread his passion for "pedal power."
"I would like to see a renaissance of bicycles, like what they were before the car, before the airplane," Swaim said. "If people demanded them, [the companies] would make them."
The world would be a better place if more people rode bicycles, Swaim contends. Fewer teenagers would get killed in car accidents, children would be thinner, schools would save money on buses, senior citizens would stay healthier, and the air would be a lot cleaner.
"I have this theory that if we would use bicycles more often, we could cut our health costs by 20 percent and our energy costs by 20 percent," Swaim said. "The key thing is to hit the younger people. They're much easier to mold."
Last week, Swaim stopped by Lakeshore Elementary to give his presentation to the fourth- and fifth-graders. He showed them the "semi-recumbent tandem" -- where the rider in front reclines and the person in back sits upright; a foldable bike in a bag -- practical for taking on subways; a tiny bike built for a monkey; an off-center wheel bike, which gallops like a horse; and a "sociable" -- a two-person, side-by-side bike, which was popular before there were cars.
As always, he saved the seven-person bike for a surprise at the end.
He bought the ConferenceBike to introduce visually impaired people to the joy of bicycle riding, but he has also been accompanied on the tricycle by 97-year-old twins, college band players, Girl Scouts and pretty much anyone else who asks for a ride.
Swaim's collection made fifth-grader Logan Schafer's regular bike seem pretty boring by comparison.
"His were a lot cooler than mine," said Schafer, 11, who said that between hockey practice and homework, he doesn't often find time to ride his bike.
On Friday, Swaim and the Patel family -- owners of the Polynesian Inn, where the Swains stayed for the month -- rode the ConferenceBike to take 8-year-old Ravina Patel to third grade. Her parents and grandmother helped pedal the half-mile to Lakeview, while her 19-month-old sister sat on the table in the middle.
The school parking lot was nearly full by the time the group pedaled up to the entrance, all smiles.
Once they rolled to a stop and Ravina climbed down, school Principal Frank Telemko took a turn.
Swaim was tickled to see the rack at the school full of bicycles. Telemko, who said he is always looking for new ways to keep his students healthy, said he would like to see even more kids pedaling to school.
"We don't realize how lucky we are in Florida," Telemko said. "The kids have that opportunity [to ride a bike] probably 300 out of the 365 days."
Posted by mkreig at April 13, 2007 07:38 PM