Bouncing bikes make 11/15 Busycle Farewell Event go Ballistic
As 11/15 rapidly approaches, as we here at the National Bicycle Greenway have seen over the last ten years of our public event history, the excitement for that which is straight ahead is pouring forth like a gusher that threatens to explode out of control. Besides all the new ideas, offers of help and exhibits and sponsors that want to play with us at the Palo Alto YMCA. we just heard from Mr, Bicycle! Peter Wagner will be there! With **nine** of his mind blowing, show stopping bikes (he has built and owns hundreds). I mean Peter is a man whose bikes and bike exploits stand so tall among his Davis, CA contemporaries that American Profile came all the way from Tennessee to do a (http://www.americanprofile.com/article/2511.html) STORY about him. American Profile. is a national magazine that publishes stories "about this country's roots, and the people and places that still make America great".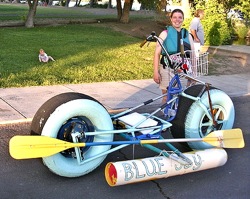 Nor is great a relative term where Peter and his bikes are concerned. He is a true giant among all those men and women who make Davis, CA one of the top bicycle towns in all of the USA. Like a modern day Robin Hood, he takes the left overs of the bicycle rich and gives to the physically challenged poor. While all those in his immediate neighborhood (especially the kids) get to ride the astonishing creations that are built from those things often disposed of in recycling yards and garbage dumps, Peter also gets people with disabilities on the one bike he has become famous for.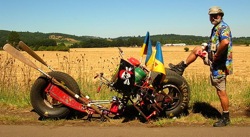 An overgrown bouncing bike, patterned after the Ingo that enjoyed popularity from 1934 to 1937, Peter calls it the Whymcycle. Imagine a "bike" with wheels several feet wide that are between a platform that you stand on to bounce up and down on for forward motion and you will understand what a Whymcycle is. Nor are Peter's creations dainty. He has made versions that have won races that travel over sand, land and through water such as what the Kinetic Tiki Bar Lounge and Unwheeldy that will also be at our show are able to do.
Pictures of Peter's bikes can be found at the bottom of our Busycle Farewell web page (http://bikeroute.com/BusycleFarewell). Peter joins the world's fastest cyclist, the world's fastest bike and the world's top mechanical authority and many other top bicycle people in their field to help us send the world's slowest bike, the Busycle back to a museum in Boston. All this as Marla Goody leads some of the hottest musical talent in the Bay Area to make for a true celebration of historical proportion. 4PM outside show. 6 PM inside the stunningly beautiful YMCA!
I can barely type this, I am so excited!!
Still needed:
- Cyclists for the convoy that will bring Unwheeldy from Menlo Park to our event. 10 AM Saturday
- Cyclists to help clean the Busycle on Saturday at 2PM and then ride it over to the Y
- Bike Parking attendants
- Test ride parking lot attendants
- Runners for Jeannie, Silvie and Faye
To help, reply to Jeannie Llewellyn: jkllew@comcast.net
THX 4 all of U!!
For more event details please visit: http://www.pingg.com/enjs3v6x6kzyrr8jg
Posted by mkreig at November 12, 2008 11:27 AM