RCN on Crank Forward Comfort Bikes
CRANK FORWARD 101
COMFORT BIKES FOR THE FUTURE
by Bob Bryant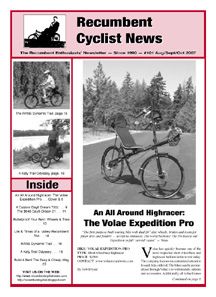 So you want a comfortable bicycle, but don't want to spend over $600 and have tried the traditional upright comfort bikes. This article is about "flat footed" or "crank-forward bicycles" (CF). For information on bikes over $600, lightweight crank-forwards and full recumbents, see the resources at the end of this article.

For years the bicycle industry has been searching for a way to mainstream recumbent bicycles to make them simpler, easier to ride, easier to sell — without all of the required hand-holding, explaining and education required to sell a recumbent. Many recumbents have have gotten less rider-friendly with more reclined seats and higher pedals. The bike industry needed a more comfortable bike — thus the "flat-footed" or "crank-forward" (CF) bike.
The crank-forward (CF) bicycle is essentially a stretched wheelbase cruiser/comfort bike with the seat moved rearward on the bike. This allows a lower seat height, and a semi-recumbent "sit-down" riding position. According to their designers, the CF bikes offer the majority of the benefits of a recumbent without the added complications. The CF has two full size wheels and no seat back. It uses common cruiser/comfort bike parts, and the seats are interchangeable. With a CF you can sit at a stop with your feet flat on the ground as well as achieve a proper leg extension when pedalling — all with this lower and more relaxed seat position. Imagine an upright comfort bicycle with the wheelbase extended slightly, seat moved rearward and lowered, a larger cruiser-style seat, and riser handlebars.
Crank-forwards are affordable — they start at $300.
The benefits of the CF bike are as follows:
• Large seat supports the sit-bones
• New rider friendly (no instruction necessary)
• Flat-footed stance (while seated at a stop)
• No wrist, arm or neck pain
• Standard designs
• Full size wheels
The mark of a good CF bike is that a new rider can climb on and ride away with little or no instruction. With your feet flat on the ground while seated at stops and the comfy cruiser saddle, the CF hits the mark for many recreational riders.
"By mixing the comfortable laid-back seating position of the odd, but fast recumbent with our smart and swoopy curved cruisers, we created the next generation of bikes, the Townies." — Electra Bicycles
MODERN HISTORY
Beach cruisers, comfort bikes and recumbents have been around for years. Lightning really struck when Electra, the cruiser bicycle manufacturer, unveiled its new Townie line in 2003.
They ran full page ads in trade journals showing the Electra classic cruiser, a long wheelbase recumbent — a melding of the two designs into a Townie. Electra's concept was nothing short of brilliant. It is trendy, stylish, and appeals to all ages and abilities. Electra Townies now have quite a following and they are having good sales success. Since then many others have followed suit. RANS president and designer Randy Schlitter has been tinkering with these types of bikes for years, predating both Vision and Electra. Vision Recumbents (now out of business) offered a CF several years ago, but it had an uncomfortable seat and it didn't sell well. Electra and Giant (Suede) seem to have most market share at this time, but the others are catching up. RANS owns the lightweight and performance CF genre — as there is currently no competition. Here is an article on the RANS CFs.
CF SEAT COMFORT
Mainstream CF bikes are designed for rides of 2-10 miles. The more enthusiast models from RANS are designed to be ridden farther. CF seats are wider than those on regular bikes and offer full support of the sit-bones. With the CF's semi-recumbent riding position, there isn't much interference between the rider's thighs and the seat like there would be on an upright bike. While CF bikes are definitely more comfortable than uprights, they are not as comfortable as a full recumbent. Most of the rider's weight is on the seat, but you can stand on the pedals on most CF bikes (but it is more difficult than with an upright). Some riders may find the mainstream CF cruiser seats are not as comfy as they should be. If you have comfort issues, consider an after-market wide sprung gel cruiser seat like the Cloud 9. Another CF benefit of no seat back is that your back won't get as sweaty as it does when you ride a recumbent. If you want a seat back, consider a recumbent.
HOW MANY GEARS
CF bikes are best suited for flat cruising and recreational riding. If you just plan to ride around the neighborhood, and easy rolling terrain, your best bet is a 3-speed internal hub or 7-speed derailleur. Enthusiasts who plan longer rides on hillier terrain should consider a bike with more derailleur gears (24-speed). 7/8-speed internal hub gears add to the cost and make the bike heavier, slower and requires more effort to ride. Maintenance really isn't that much simpler, you still need shifter cable adjustments.
WHEEL SIZE
The majority of CF bikes come with mountain bike style 26" wheels. These are robust and there are a wide range of tires that will fit, from 1.25"-2"+ wide. A few models come with 700c (28") wheels. 700c wheels are taller, roll faster and easier than 26", but they are not quite as robust. The other concern is that the larger 700c can create foot-interference with the front wheel on some bikes. The larger wheeled models also have higher gearing and casual low speed riding.
BRAKES
Most CF bikes come with mountain bike linear (V-style) brakes. Some are outfitted with disc brakes. Both are viable options. Discs offer better stopping in the rain, but are heavier and more difficult to mount racks/fenders. Any models that come with coaster brakes are best suited for flat terrain.
SUSPENSION
We like the idea of suspension — because these are comfort bikes. CF bikes place more weight over the rear wheel, thus have the potential to give a rougher ride. When choosing a bike, look for a suspended fork that has preload dial adjustment to set the firmness of the shock. A suspension seatpost is also a good idea. A sprung cruiser saddle also makes the ride float along that much better. The downside of the CF bikes is that you can't deweight the seat as easily as on an upright bike, so suspension is more important. Suspension does add weight. Consider mounting some wider low pressure tires if your bike does not have suspension (Schwalbe Big Apples or the robust Specialized Armadillo).
PERFORMANCE
The cruiser style mainstream CF bikes are recreational bikes and their performance is mostly on par with a common triple crank comfort bike or most entry level sub-$1200 recumbents. A CF is lighter than most entry level recumbents by several pounds. Many CF bikes come with low pressure cruiser tires and will be slower. Upgrading to a high pressure tire will make the bikes faster. For better performance, consider 1.5" Primo Comet, Kenda Kwest or Schwalbe Marathon/Racer. The performance difference will be remarkable. Electra claims that you can develop more torque with the Townie position. The RANS technique requires pulling into the bars to generate power. I've found most CF bikes tend to be slower climbers. The exceptions are the models that you can stand out of the seat on climbs (most models except the RANS Fusion & Cruz). Most riders will be fine climbing the recumbent way — gear down and spin up the hill.
BUYER'S ADVICE
Here are the current models available:
Electra
Townie (26" & 700c comfort see also cruisers). Sold through dealers.
We like the 3-speed internal, 24-speed derailleur and 700c models. Our favorite Electra models are the Amsterdam CF European-style city bike, complete with rack and fenders and the hot rod models.
Giant
Suede (26" comfort). Sold through dealers.
Giant has a new Suede model with the Shimano Coasting 3-speed electric automatic drivetrain.
Sun
Drifter 7-speed (cruiser), Hybrid Ruskin 21-speed (hybrid 700c) and Comfort Rover 21-speed (comfort 26"): Sold through dealers.
Trek
Pure Sport and Lowstep (26" comfort). Sold through dealers.
The Trek line was newly updated for 2007. I have yet to see them.
The Electra Townie and Giant models will be the easiest to find. Your best bet to see these bikes is visit their websites and contact local dealers. It is best to choose from what is available from a local dealer. Choose the wheel size (26" or 700c), drivetrain (1-,3-, 7-,8-,21-,24- or 27-speed) and if you want suspension or no suspension (rough roads/trails or smooth). Electra, Giant, and Trek have fine and affordable offerings. Sun offers the lowest prices and best values. Lastly, don't forget to check out the cool offerings in the Electra Cruiser catalog. These are Townies with attitude: big wheels, fat tires, chrome forks and bars, and show stopping paint schemes: Straight-8, Rockabilly, Hellbilly, Rat Fink, Pink Fink, Ghostrider and others.
If you're an enthusiast looking for a high quality, lightweight CF, check out the RANS models. Be sure you understand the difference between the more laid back (Fusion & Cruz) comfort designs, and the Dynamik and Zenetik that allow you to climb up out of the seat. Be sure to check out our article and visit crankforward.com.
SUMMARY
The mainstream CF's are excellent recreational comfort bikes for riders who don't need the comfort of a full recumbent, or want a more casual jump-on-and-go and easy-to-ride bike. CFs are ideal for casual recreational rides of up to a dozen miles and they offer immediate comfort. The CF bikes bring together the best of the recumbent and the upright worlds and offer another comfortable bicycle option for new riders — a semi-recumbent for the masses.
CF HIGHS
• No wrist, arm or neck pain
• Ability to stand on pedals to climb hills (some models)
• No learning curve
• Easier to adjust (upright bike seat post)
• Familiar: Looks like an upright bike
• More aerodynamic (than an upright)
• Easier to stop/start (than a recumbent)
• Can be lighter than recumbents
• Simpler than recumbents
• Easier to work on
• Easier to transport
• Low cost ($300 and up)
CF LOWS
• New and different
• No back support (like a recumbent)
• Harder to find a test ride
• Not as fast (as similar uprights or fast 'bents*)
• Do not climb as fast (as similar uprights or fast recumbents*)
• Heavier (Townies, etc.; not the Fusion)
• Minor lower back pain (some riders & models)
• Possible recumbent butt
• Won't fit on transit bus racks
===
SUPPORT OUR PUBLICATION
If you find this article helpful, please consider subscribing to Recumbent Cyclist News.
Subscribe to RCN - http://recumbentcyclist.com
A sub is $30 to RCN, PO Box 2048, Port Townsend, WA 98368. A single copy of RCN 101 is $6.
Posted by mkreig at
11:05 PM
Kinetic Sculpture Race Founder Dies
Hobart Brown, the man who 39 years ago brought the Kinetic Sculpture Race phenomena to Arcata, CA that has now swept through cities all over America and as far away as Poland and Australia passed away last week on Nov 7.

After Hobart created the five-wheeled, 5- 1/2 foot-tall red contraption with wrought-iron curlicues, a steering wheel and a surreylike top he called "The Pentacycle, that you see pictured here,

ten other local artists created pedal-powered, wacky works of art of their own so they could race him on on Mother's Day 1969. What began as a one-block dash, has since grown to an Arcata-to-Ferndale trek across 42 miles of land, water, sand and mud. And the sculptures have become increasingly elaborate and wacky.
It was Hobart's zany way of doing his life that helped to expand the consciousness for what is possible for human power. Because he made it fun, it was his action that inspired countless tinkerers all over the the world to experiment with new ways to move one's self about in the absence of motor propulsion. He showed the world that pedal power did not have to be limited to the upright bicycle design as we know it.
With Hobart's passing, we lost the man who held the light for a lot of the out of the box thinking that defines bicycling today.

Here is a good 2003 article about Hobart
Posted by mkreig at
09:04 AM